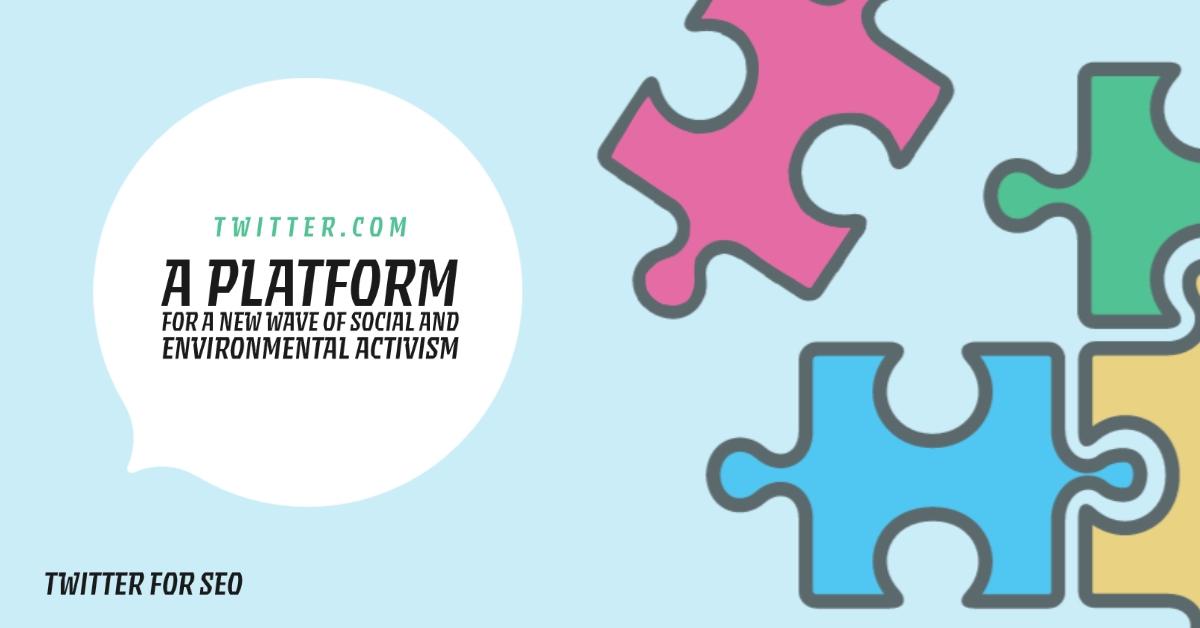 Twitter for SEO
"Twitter has provided a platform for a new wave of social and environmental activism, and provides an opportunity for brands to do purpose-driven advertising."
Given the above quote is on twitter.com Twitter self describes as "a platform for a new wave of social and environmental activism" how can an SEO (Search Engine Optimisation) best make use of that platform?
Using Twitter as an "Activist" to get the Network Effect
Twitter is not about telling people what you had for breakfast (ie self referencing promotional content). It is an "activist platform". To gain the best SEO response from Twitter you need to use it as an activist would.
Twitter is often regarded as an "echo chamber" or to quote Kerry Packer "this is not a democracy son".
There is the opportunity to have "like minded" people endorse ( retweet, interact, like, quote, impression) your tweet. The network effect is generated by others viewing your tweet, however the ultimate goal of any tweet when it comes to SEO is have someone retweet and interact (click) your tweet link .
With Twitter to generate the network effect with the aim of getting clicks, your followers are important. Other users who regularly follow and retweet your tweets are therefore very important. Hence reciprocating and rewarding (retweeting) other good content makes sense.
So let's look at how to construct a tweet for the goal of getting it retweeted and clicked.
Creating your Tweet
Construct your hashtags, keywords, images (1 or 2) and a link (optional - good for SEO) to give the best chance of being retweeted. Below is Twitter analytics of a succesful tweet from activist group @SaveOurSpit related to the topic seperation of church and state and specifically related to a topical issue on the Gold Coast. The image used on this tweet and the call to action (click the link to the ABC article) combine well.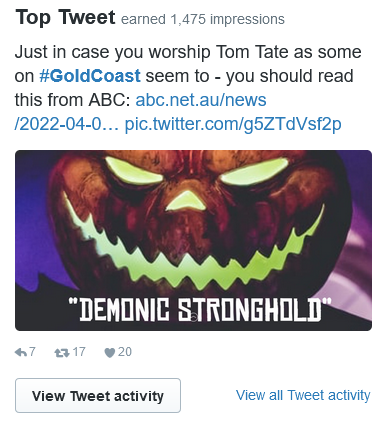 Link to your profile
In Twitter your "Real Name" does not need to be your actual name. Your Username should also count. Our Twitter Username is @goldcoastlogin which is a good name for a Gold Coast based SEO and Web Developer. The bio reads -: Web Developer - Video - SEO - working hard to develop passive income with SEO. It is best to stay on topic as much as possible.

Link to your profile everywhere you can, and do so with strong keywords in the anchor text.
Note the above suggestion is related to SEO for your Twitter account. This article is focussed on generating SEO value from your Twitter account however in SEO terms, a strong Twitter profile will add a value from a different domain (IP address) so both are valid techniques.
Twitter uses the "nofollow" tag in links (does not pass on SEO value) however Google is sophisticated in that a strong social media presence is always a benifit to SEO. The same applies to links you place in YouTube videos description, these too have value from an SEO perspective. Google wants to reward genuinely popular content.
How Google measure's your activity
1 Google indexes some tweets

2 Google Analytics (Universal) measures clicks to pages-: Aquisition -> Social -> Network Referrals

Twitter Provides Instant Market Research
Twitter provides instant market research for your ideas. Where else can you use a hashtag that puts your information in front of everyone on the same platform? Your information can go in front of those interested in politics by using the #AusPol tag in your tweet. You can instantly test ideas and judge the response almost immediately. Then if there is a response you can expand on your idea (blog).
Twitter Images are indexed in Google Images
We created a blog about Regex for SEO and guess where the images were indexed first? From our Tweet about the article. Notice it mentions 4 days ago, and as of writing the page had not been indexed in Google yet - the tweet is.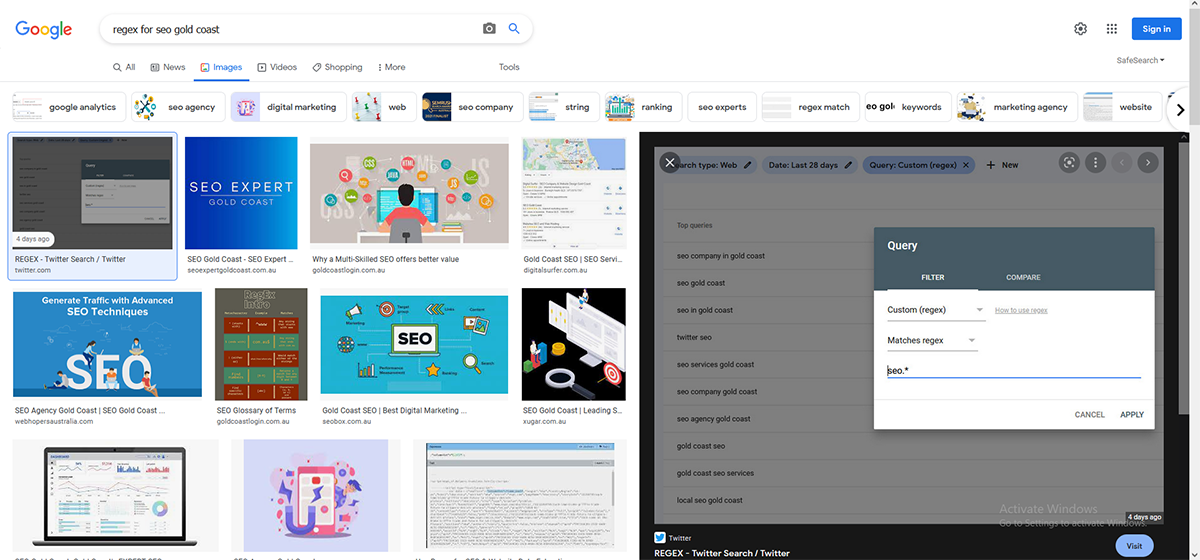 If Google can index the tweet image so quickly, should you then use a different image than is on the page? More on this when we find the answer to that.
Recent Articles

---

---

---

---

---

---

---

---

---

---
View All News Articles
Categories
A Gold Coast SEO and Web Developer