SEO
Using Google Analytics for SEO
Using Google Analytics for SEO
"If you can't measure it, you can't improve it."
Techniques to help analyse your website using Google Analytics Universal and the new Google Analytics 4
Is social media a productive investment for your site? We can show you how to find out.
Setting Up GA4 Google Analytics 4
Setting Up Google Analytics 4
One of the most compelling features of Google Analytics 4 (GA4) is how engagement is measured. Instead of Bounce-Rate in Universal, GA4 measures engagement out of the box, thus giving feedback on which pages and which Traffic Aquistion sources offer the best engagement. You can determine at a glance if your social media campaigns are effective.
Google Analytics 4 makes it easier to discover actionable, privacy-safe insights from across the customer journey. GA4 works with or without cookies or identifiers, so you can learn about your customers even with gaps in your data.
With machine learning at its core to automatically uncover insights from your data that help you predict and reach the customers who are most likely to convert.
Let's assume you have Google Universal setup already and want to update to Google Analytics 4. Setup GA4 as well as keeping Universal to ensure you retain your historical data. Also there are some useful reports in Google Universal and its integration with Google Console being valid reasons to retain it.
Steps in Setting Up Google Analytics 4
1: From Universal go to-:
Admin>GA4 Setup Assistant>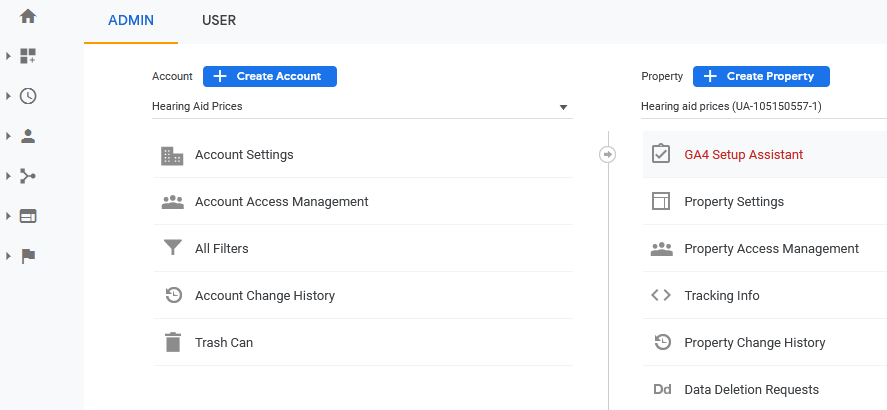 2: Click Get Started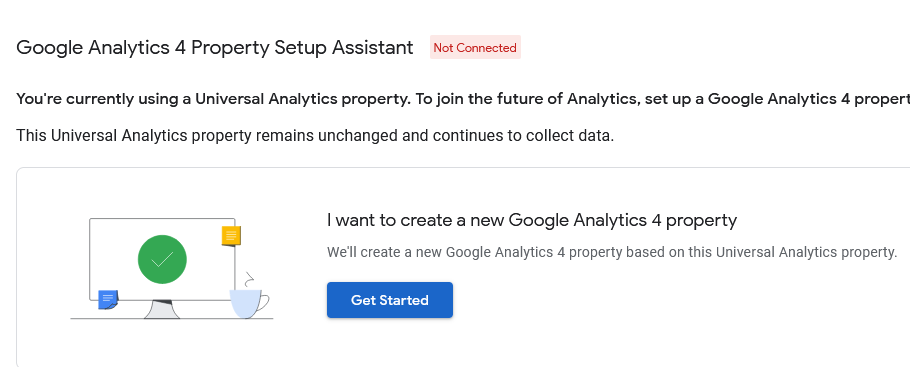 3: Click Create Property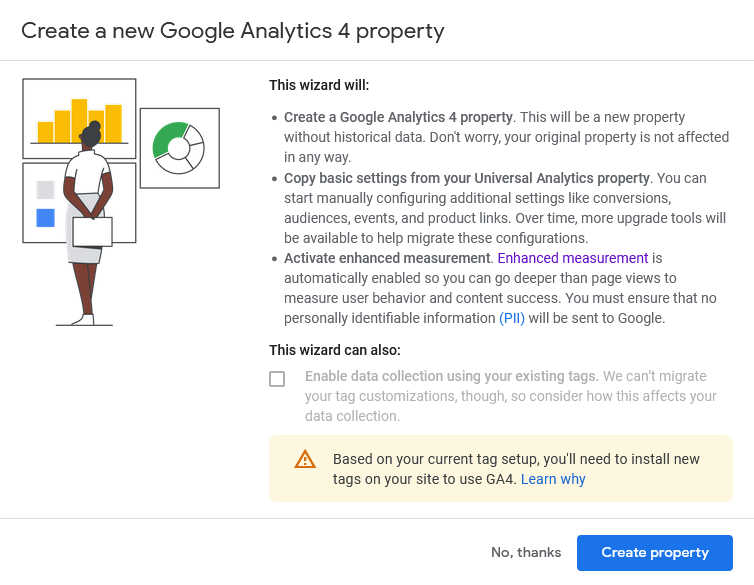 4: Click See your GA4 property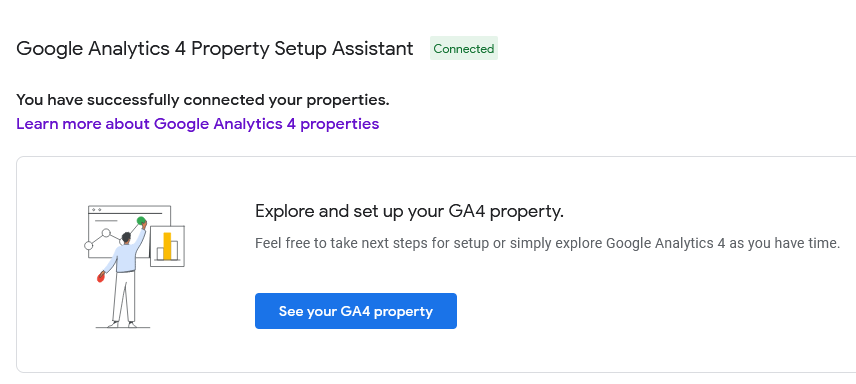 5: Confirm Data Streams (Enhnaced Measurement)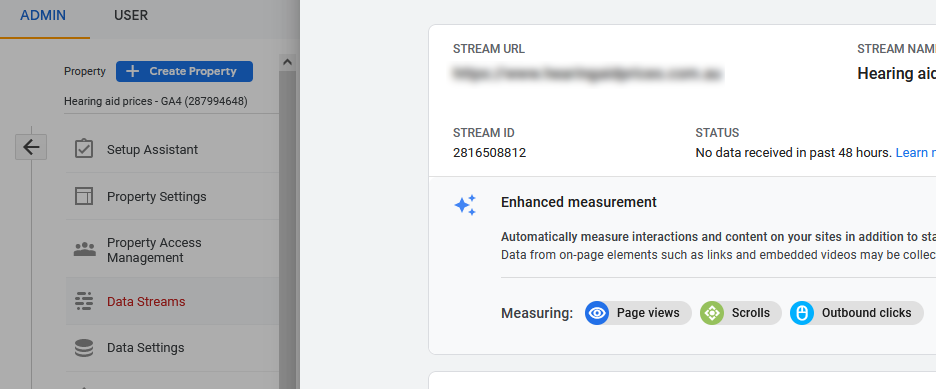 6: Choose the appropriate Tag script and paste into every page of your site.

Congratulations!
You have have setup Google Analytics 4.
Take a look at live data and wait for data to be collected to explore the features and try some of the advanced techniques on this page.
Tracking and Reporting Outbound Clicks
There are automatically collected events in Google Analytics 4 (GA4). It is a programmable event driven model.
One of the events is a "click" which by definition is "each time a user clicks a link that leads away from the current domain". In this example we are going to enhance that click event to record clicks to external sources so they are reported.
We want to know specifically (in this case) how often a site clicks to Google My Business reviews and how often there is a click to an external booking site and see a report of the urls and the count. When created you will see reports as per below-:
Engagement>Events>click>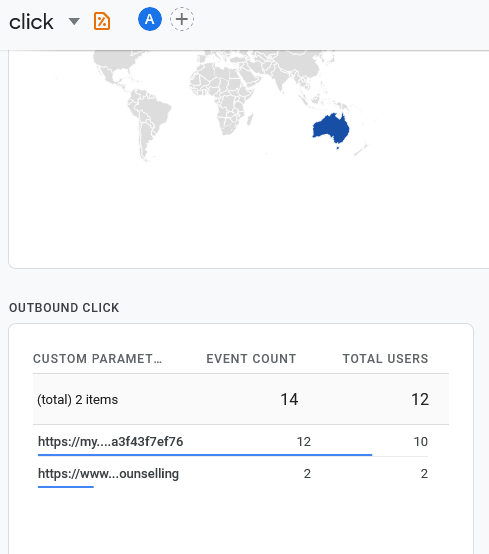 To see the Outbound Click report above we created a Custom Dimension (Configure>Custom Dimensions) named "Outbound Click" with the "Event" scope and the property parameter link/url. So when a link away from your site is clicked we are recording the url.
However the gotcha here is this will not be visible until there have been some of the events recorded. Hence take a note and return in a couple of days when some data has been recorded and you can then add this screen to your report (refer Creating Custom Dimension - note it may appear automatically). This is tricky because you see nothing initially until some events have been stored. So that makes it not available when you initially set it up.
Google explains this with 'you will see a value of "not set" for a custom dimension during the first 48 hours'.
Creating Custom Dimension (Definition)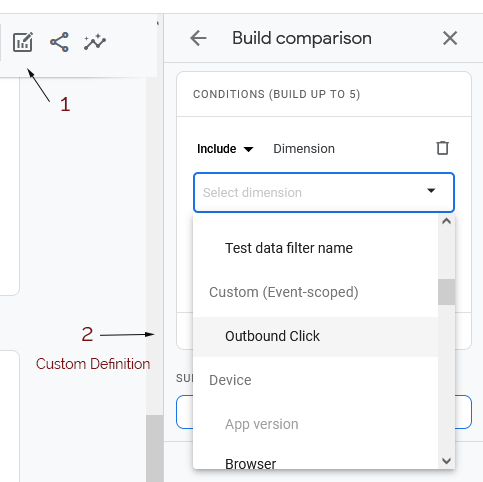 Preparation
Admin>Data Streams>Enhanced measurement>


Ensure Enhanced measurement is switched on. Note we are recording Outbound clicks.
Value to SEO of recording Outbound clicks
Say for example you suspect that Google Reviews is playing a large factor in user behaviour on your site.
Recording Outbound clicks allows you verify this and hence determine the placement of Google Reviews on your site.
Say you have a site that is also promoting another site (a common SEO technique). You can measure precisely which pages (urls) are being clicked.
A Gold Coast SEO and Web Developer