Seach Engine Optimisation - Gold Coast
Why "search engine optimisation gold coast"? because we actively specialise in SEO for sites targetting Gold Coast.
The Gold Coast has certain key sectors - some very suitable to creating your own Gold Coast niche.

Paying to for sponsored links can be very expensive with many savvy searchers just ignoring them anyway.
You can actually pick up the phone and discuss your site with the developer
Our SEO background - based on web development
We have been developing websites since 1996 and started SEO for Yahoo (before Google existed). However our most important 'secret ingredient' is that we are foremost web developers who develop systems to work well for SEO. Getting sites to the top of Google is a by-product of the systems we build.

We don't out-source any of the systems we build - your developer is also your SEO - you can actually pick up the phone and discuss your site with the developer.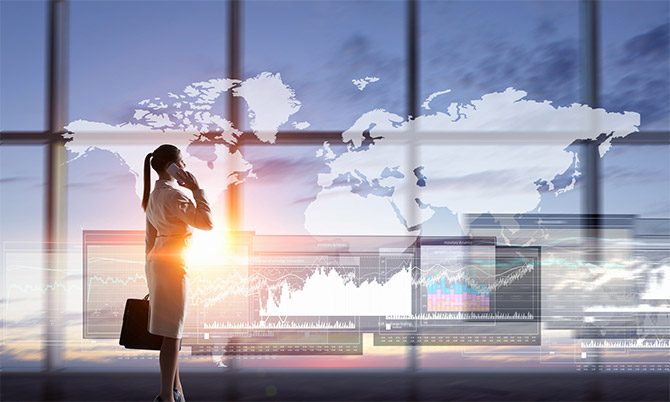 Keyword Research
Targetting the right keywords and evolving as you progress is important. It's a journey - sometimes we know how to get there on a direct route and other times we need to build momentum to get the results.
It turns out that, at least in this particular three-month data set, the top 100 terms accounted for just 5.7 percent of all search traffic.
Diversity of Search Terms
A study by Dustin Woodard reported in Webpro News looked at the top 10000 search terms. To summarise the conclusions of his report there is such a diversity of terms used that competing for just the main terms is not the only strategy to use.
A good strategy is to look at the competition and decide whether to target key terms or broader terms.
"It turns out that, at least in this particular three-month data set, the top 100 terms accounted for just 5.7 percent of all search traffic."
Competition
Monitoring your progress and your competitors is important. A skilled SEO can do this efficiently.
Why is this new site rapidly rising? They never used to be there.
Google moves and adjusts regularly. With about 400 factors that affect a site it is often a case of finding the SEO that beats your competitors. To do this you need a lot of strategies. The broader the skill set of your developer the better the strategies.
Search Engines - What has changed?
This section will be dedicated to new changes that you should be aware of to stay on top of the Search Engines. Google always evolves, it is way ahead of the competition and will more than likely stay that way.
Have you noticed certain sites now have maps and videos in search results?
Read our article Using Google Local Business Center.
Read our article Yellow Pages vs Search Engines.
Quality content is now more relevant than ever. Google can tell if users are staying on your site (bounce rate).
The speed of your site is also now a factor to consider. Some CMS systems can really slow down your sites reponse.
New web history and privacy settings - Google's new privacy settings as of 30th Jan-2012
There is a change in the way you interact with Google's Web History. You can remove web history (recommended - if you want to see search results not influenced by previous searches).
For an SEO it is important to be able to see the search results not influenced by your own personal activity.
This activity is recorded in Cookies stored in your browser - hence you will notice one browser shows one result and another you use will show results based on your web history.
1. Sign in to your Google account (top right bar on Google search).
2. Click Web History under Products. Refer Image below
3. Click the on button to set it to Paused Refer Image below.
4. Click Remove all Web History. Refer Imaage below
5. You may need to clear your Browser History
Step 2 After logging in Click Web History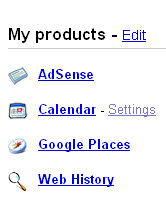 The History of your activity is listed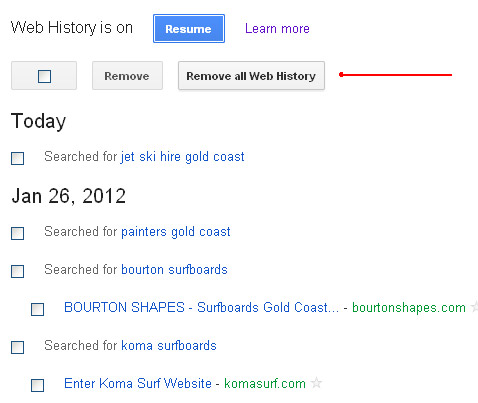 Step 3 After clicking Remove it should be empty and Web History is paused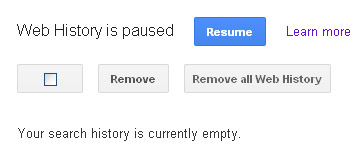 Step 5 Clearing your Browser history
You may need to clear your browser history as this may still influence what results you see. Below is the Firefox clear recent history box. From the menu follow these steps Tools>Options>Privacy>clear your recent history.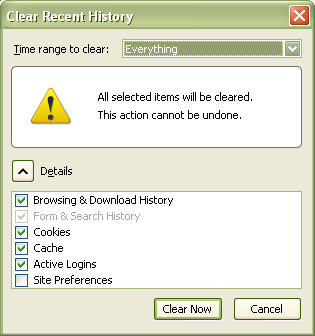 Google Personalisation of search results - previous method
Google sometimes customises your search results based on your past search activity on Google. This is called personalisation.
To get a true picture of where your site is ranking in search results turn off personalisation.
How to turn Google Personalisation off


Signed-out searches - click the web history link on the right hand side of Google. The above screen appears. Click the disable customizations based on search activity.
Signed-in searches
1. Click the My Account link from the Google homepage.
2. Click Edit next to 'My products'.
3. Click Delete Web History. Make sure you're signed in to your Google Account to see the My Account link.
Search Engine Optimisation Tips
Research the domain name to include keywords or simply easy to remember
Decide when .com or .com.au should be used (Geographic Targetting)
Structure the site to be search engine friendly
Know what keywords to emphasise (keyword reseach)
Avoid do it yourself instant website software or pyramid style schemes designed to benefit the seller (if it sounds too good to be true it probably is)
Research related terms
Link strategy
Update content regularly
Avoid code that web crawlers cannot negotiate
Avoid competing directly against giants
Know your likelihood of success before you start the site
Do not spam or attempt to fool search engines as you may be penalised
Analyse your competition and determine areas of opportunity
Target Generic words if there is not heavy competition
Trial and error - you may have to wait months to check results so remember what works
Analyse statistics daily and continually update - yes there is no "instant search engine optimisation tricks" it is good ol leg work backed up with experience.
You can also consider a multiple site strategy or join a high ranking network

Hence your strategy starts before you buy your domain name. I am often referred to people who want thier site to improve in Search Engines. More often than not the cheap ( and sometimes not so cheap ) sites lack quality planning to allow the site to reach its potential in Google.

The more amature sites actually are a liability to the company and represent a lost opportunity as Google places heavy emphasis on time.

We create an Image Management System (CMS) that acts as a search engine promotion tool allowing you to actively improve your search engine ranking over time. This is done by allowing you to create articles that are read by search engines and can include links to other sites or parts of your own site.

Search engines offer free advertising in that you can be found for free. There is no charge, they are also (especially Google) democatic and consistent. Generally you have to earn the high ranking and then it comes down to how well your site is optimised for the search terms.
Opportunity Cost of a poor website
For some categories of sites there may only be one position that is important to be in the top 4 entries in Google. Otherwise with low traffic numbers it is simply not worth creating a web site apart from servicing people that already know about your site. Hence no matter how cheap the web site you create it may be wasted money and a wasted opportunity if you are not found! This is referred to as opportunity cost - where value has been lost.
If you are under a miniscule budget there are options - and these options include companies locally that will give on the phone and face to face contact.
How web hosting effects Search Engine Optimisation
What has the quality of your server got to do with good search results?
Google is in the business of delivering quality search results. An unreliable server gets picked up by Google crawlers in what is called URL's timed out.
Having recently tested this by moving one site from a cheap server to a more reliable one and after it settled down following the move it dramatically rose in the search results.
Cheap hosts save money by craming lots of sites onto shared servers.
We recommend quality hosts only.
Finally host location is a factor - we can advise you on your SEO needs and whether a local or OS host is best.
Search Engine Optimisation - Moving your site to a new domain
When transferring your existing site to a new domain name you need to be sure that your valuable page rank and indexed pages come with you.
It is important to choose your domain name wisely to avoid loosing the value a site gains over time.
There are techniques you can use to transfer to a site to a new domain and maintain your pagerank. Google recomends certain techniques when moving a site. Your web developer may be brilliant at design - if they are not experienced with SEO (no-one is an expert at everything) make sure you get the right advise and ensure that your site is constructed in a way to maximise your exposure in Google.
Search Engine Optimisation - Who is the best SEO for you?
Be aware that a SEO without programming and general HTML skills is not as effective as an SEO who knows the craft of the web.
Simply ask who is doing the SEO and how is it done - you may not get a definitive answer but if you are not talking to a multi-skilled SEO directly you are not getting the full value you should be.

How can you test the effectiveness of your SEO?
One way is to see if they themselves come up high in search terms.
In our case try 'Gold Coast SEO' or 'Gold Coast Search Engine Optimisation'.
Another way is to check their portfolio of sites and try to determine how successful these sites are on competitive keywords.
Many of our sites do very well in search engines without the customer specifically paying for SEO. So if your site is not doing well in search engines odds are there are fundamental issues with the design and/or you may not have been linked into search engines properly.
In most cases sites can be corrected to perform better.
For my SEO customers I produce a report (over 10 pages) that describes how they can maintain thier site high in search engines and closely analyses competitors and prospective keywords.
How to choose an SEO company
No one can guarantee you a position in Google. Do not pick a company solely on how their site ranks. Although this site is at the top of "gold coast seo" and "gold coast search engine optimisation" that alone does not prove we are good value SEO's.
Look for good results over a variety of keywords over a long period of time with not too much expence. Ask to be able to contact clients and check for yourself their experiences.
Avoid companies that outsource SEO - we do everything inhouse and do not participate in link building scams (these are often short term with little lasting benefit). We prefer to teach clients on how to promote their site themselves in an ongoing effective way.
A multi skilled SEO is best
A multi skilled programmer/SEO can out perform a 'marketing person' with limited programming skills.
Why?
When you are optimising your site getting traffic to the site is one thing but actually converting that traffic into an enquirey or sale is your goal. Google can measure the retention rate of your site (bounce rate), a programmer with SEO skills can use those skills to build applications that help retain visitors. With this broader toolset they can manage a better more holistic solution.
Search Engine Optimisation - What is it worth
Analyse the possible financial benefits of a web site which is Search Engine Optimised.
Can it reduce your sales staff and automate tasks?
Can it make your business grow and become more efficient?
How does it compare with conventional advertising?
Finally ensure your web developer is not only available but does not tie you down to ever escallating unnecessary charges.

My sites are built to be very search engine friendly and generally get listed very quickly.
I actively monitor all of my sites regularly and suggest refinements that will improve their search engine status. This is simply part of my service and incurs no charge except for the updates if accepted.

I am very successful at generating sites that do well in "Gold Coast" keywords.
With our new pay per click Optimisation plans you are only charged for incoming traffic - great value!