Surfboard for sale site launched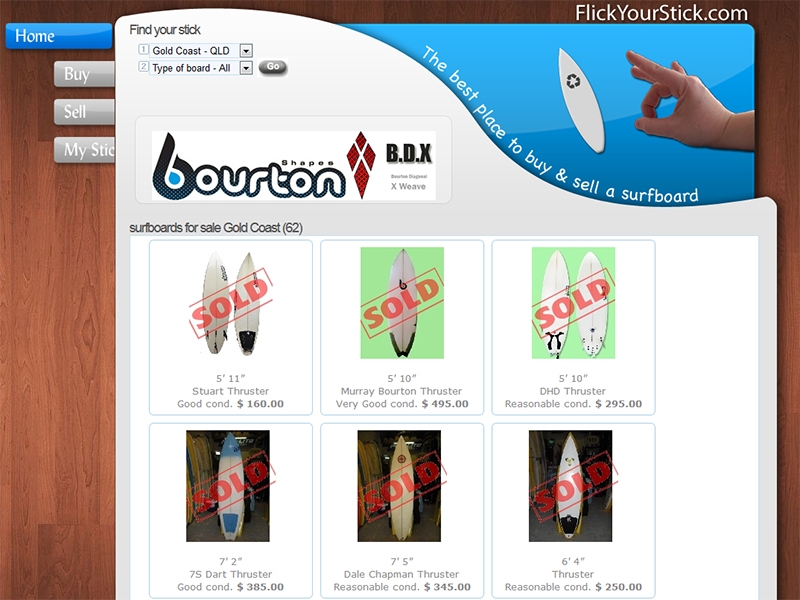 Surfboard for sale site launched
What started as a conversation between 3 surfing friends last summer has become a reality.

We were discussing how with the GST it was hard to sell a surfboard in shops.
Many shops just do not have room for second hand boards.
Why don't we create a site that sells surfboards online?

So we did its called FlickYourStick.com and it allows you to sell your surfboards for free.
Check the shortboard surfboards for sale gold coast as the is a huge surfing population here.

We were lucky to get a Griffith University student project group to work on the project.
Students (team Glitches) including Jordan, Jason, Samantha and Jaylon did an excellent job
Being a web developer I asked the group to concentrate on the design and I will fit my back-end system to the eventual design.
My systems are very good for creating custom sites - they allow me to develop faster because everything in the system is one of our components. It did encourage me to create a new membership style of management system which I hope is easy to use.

Now the fun begins - we have lofty ambitions for the site - it just needs to help us sell our old boards that seem to accumulate.
The site will remain free to use - so if you have a surfboard you need to get rid of - Flick Your Stick.
Recent Articles

---

---

---

---

---

---

---

---

---

---
View All News Articles
Categories
A Gold Coast SEO and Web Developer