Accepting credit card payments from your iphone using a Payment Gateway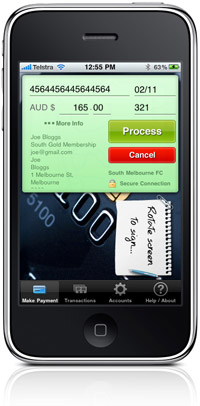 The first iphone application to specifically support Australian Payment Gateways and of course AUD currency.
Features
iCCPay has the following features :-
Turns your iPhone into a Credit Card Terminal
Quick setup, punch in your company name and a supported gateway merchant ID (and password if required) and you are up and running.
Single screen entry for fast and convenient transactions (more information can also be added)
Supports Card Security Code (CVV/CVN)
All data is transmitted securely over SSL and credit card numbers are not stored on your iPhone
Credit cards are processed live for fast instant feedback of approved or declined transactions
Rotate device to capture card holder's signature
Tap on "More Info" to add additional information such as Card Holders Name, Ref #, Description, Address, etc
History log to quickly look at what transactions you have made in the past and to view signatures
Refunds supported (if enabled through your payment gateway and/or merchant account)
Supports multiple accounts if you have more than one business
Requires Edge, 3G or WiFi internet connection
Multi currency support for AUD, USD, GBP, EUR, NZD, CAD
Why is mobile credit card processing important?
You can now plan your website around your ability to capture payments immediately. In many online eCommerce sites sales are often reinforced by a phone call. Use your site to filter your leads and complete the sale whilst on the phone anywhere.
You could be attending a conference or exhibiting your products or even at the local markets and be able to process the payment when the person is keen
Do I need a payment gateway for this to work?
Yes the iccpay.com website lists those Australian Payment Gateways that can process payments via the iCCPay application. Hence you will be up for the charges that they apply. The iCCPay application is purchased for a one off fee.

Related article The iPhone Revolution
PayPal Here™ App for your iPhone or smart phone
This new app from PayPal allows you to collect credit card payments from an App on your phone. To get started with PayPal Here™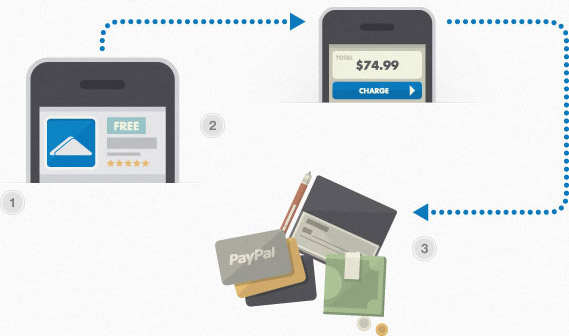 To activate your account you may need to call PayPal directly as one blog suggests ph 1800 729 725
No Monthly Fee
With PayPal Here™ there are no monthly charges, and no set up costs. PayPal Here has a simple transaction-based fee of 2.9% + $0.30 when you enter a credit or debit card payment.
ANZ iPhone app for smart phones
ANZ have introduced an app for certain business accounts that will appeal to some people.
There is a $10 account fee + 2.6% on each transaction with a minimum of $10 hence it would have a minimum fee of $20 per month which is less than most merchant accounts and Internet Merchant accounts that you have to pay for.
About the author
Philip Hoile has lectured at Griffith University in e-business, advanced e-business, e-commerce and User Interface Design. A web developer since 1996 specialising in programming website Content Management Systems.
My interest in web marketing stems from a desire to improve client outcomes.

Disclaimer Information is presented here that may go out of date or expresses an opinion. This does contain information from sources I have an association with (i.e. I use thier services)