Web Developer Gold Coast
Creating a site that enhances your business and works for you is our aim. Understanding the phsychology behind how a user interacts with your site allows us to improve your bottom line. We don't stop at just getting customers to your site - we want them to call or contact you.
People purchase largely based on emotion and justify with logic. So being SEO Gold Coast experts we can generate clients for you and help them make the decision to make contact.
We do all aspects of the web development in-house, you can always pick up the phone and talk directly to the programmer.
Our aim is to create a platform of evolving technologies that allow you to work more efficiently, not just a website. Our blog system is unique - it's created to be easy and fun to work with and give feedback as your articles prosper - "you can't manage what you can't measure."
Are we right for you?
Depending on your business and your goals we could be a real boom for your business. Effective websites are those that work for your business - not necessarily ones that have a preset number of features but the one that can adapt to business conditions find niches and start earning for you as soon as possible. It will always contain something unique that offers you value way beyond the price - after all your business is not the same as everyone elses so why settle for the same website.
Innovation and disruptive technologies are our goal with a number of Australia wide successes.
Nobody likes a slow website so why settle for a bloated free for all when you only use 5% of the features.
Some of our clients
Our web site has been instrumental in gaining Sponsorship and Government Grants for our Marine Centre
Email personal help
"Your time is important to you" one email incident can cost your business far too much. We use specific servers and hosts who can configure your site and email so it works on your devices. Personal help with any email issues at no additional cost to our clients is what we provide.
Our in-house Systems
Our admin systems are built for speed with only the functionality you use loaded -:
Product

Description

Image Manager/Blog
Image and Blog system custom made for your site. Proven to perform wonders in Google.
Optional Add-ons include -:
Video
Audio
Slide Show
As a leading Gold Coast SEO we wanted to create a system that gave our clients a clear advantage over the copy and paste competition.
Resource Manager
A system that allows you to co-ordinate documents on your public downloads page.
Shopping Cart
The antidote to slow cumbersome shopping carts. Custom made to created by a leading Gold Coast SEO designed to improve sales performance. Connected to payment gateway.
Transaction and Product sharing across multiple websites and in-house built Apps - one entry point for products amongst multiple display systems.
"You won't get that with an inexperienced web developer using a commercial shopping cart."
Email Manager
A custom email system to manage and monitor emails gathered online and send unique custom messages.
Not all businesses are the same - so why manage your customers like everyone else.
Features include being able to check who opened your message.
Think of it as Mail Chimp without monthly charges, emails are sent from your domain (less spammy than using an external server) and able to be fully customised to your business.
Fully integrated into other aspects of our system with only the need to store customers info in one central location. Tested on databases with over 10,000 customers.
Dynamic PDF creation
Create dynamic pdf documents for your customers as they browse your site. Use the document to create a printable tangible reminder of your company and its products.
Calendar Bookings
Book appointments online. This system solves the problem of needing to know when various people are available and to automate bookings to suit your business.
Custom subscription platforms integrated with leading payment gateway like Stripe.com. Share calendars amongst your team.
Custom Systems
We have developed systems for creating systems - custom administration - member management - reports. A system based on best practise re-usable components keeping both costs and maintenance down. Our system has evolved since 2000. Check our custom Facebook App that turns our Facebook Posts into search engine indexable content.
Creating something above the ordinary
So given anyone with computer skills can create an 'ok' webpage what would be the point of using a developer with over 20 years experience?
Our answer is you could create something extraordinary like the following ideas -:
enter data once and share across multiple sites
send emails at any point in a transaction
seemlessly take payments without the customer leaving your site
automate purchases with suppliers
custom processes and processing how you do business
speed and security with ongoing upgrades free
keep your site at the top of Google just by using it for normal functionality (self propelling)
create a truly custom blog article system
Charts that work on any device
If you want to have active engagement with your customers a leave your name and message form will not cut it.
Our interactive flow charts generate well filtered customer enquiries interested in a specific product or service. They work!
Below is a form for Leadership Development Sydney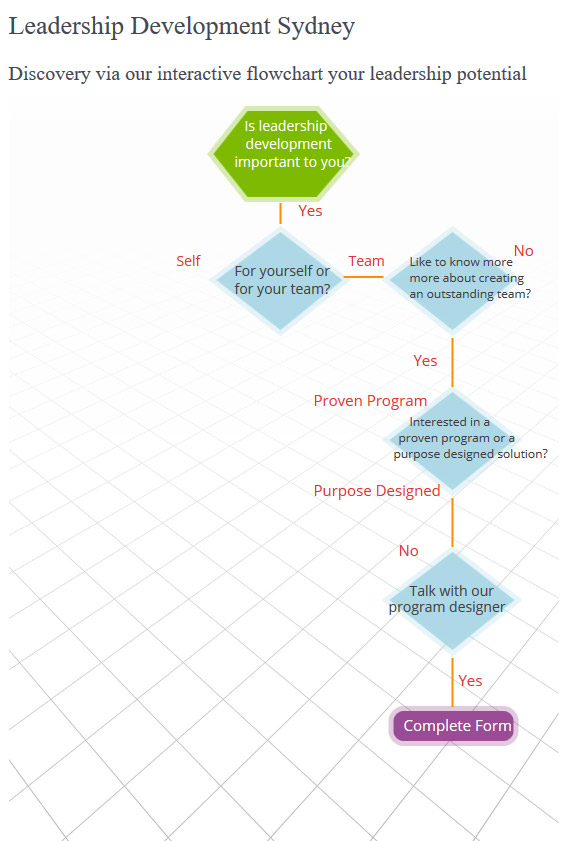 Check an example of a flowchart that can be created to-:
describe a process
engage the user
direct them to the best resources based on their decisions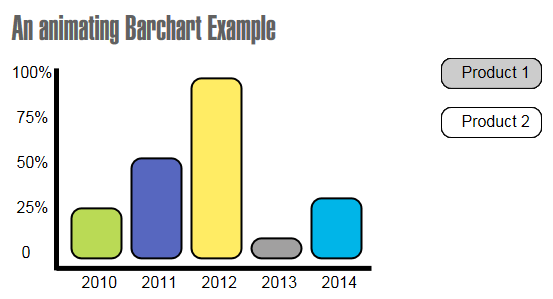 A Barchart example that animates to show a comparison between figures.