Business Email Tips
Having created CMS and email systems to gain subscribers and lecturing in e Business, advanced e Business and eCommerce at Griffith University this page contains recommendations gathered over time to get the best value from your business email systems.
Knowing how an email is constructed can be useful in developing effective email strategies as well as using the best authors on the topic from previous research.

Bookmark this page as I will be adding any quality content I discover over the coming weeks
General Business email Tips
Try to include the most important information in the subject area
Avoid long emails

Use attachments as in a report

Use paragraphs to separate key concepts
Make sure your readers know who you are with a signature that is as useful as a business card
Use professional names in your email

Snake@Hotmail.com is not a professional email address
Use a company name and avoid Telstra.com or other ISP email addresses as this locks you in to that service into the future.

Generally speaking those who respond to email every 5-10 minutes are paying more attention to their email than their jobs

One of the benefits of email is to be able to reply when it suits you (asynchronous communication)
Use an email client that allows you to choose when to check your email

Consider only downloading the header of an email

Spammers may guess email names and test to see if it is opened – by checking the header you can avoid downloading the email at all
If you suspect an email is spam try opening it on your phone instead of your main email connected to your computer

Use a spam blocker that learns to put Spam into a junk file
Email can be used as evidence of a contract and in a court of law
Backup emails as you would any other important data – assume that the current PC you are using is going to be stolen or burnt in a fire and ensure you can set up your email as it was.
Formatting emails for optimum readability
How to Format Your E-Mails for Optimum Readability (from Web Copy that sells Maria Veloso)

The readability of your e-mails is of utmost importance if your e-mails are to achieve their purpose of leading the prospect down the intended sales path. There's nothing worse than sending an e-mail with jagged, uneven lines (a long line, followed by a short line, then another long line followed by another short line, and so on). This occurs when your e-mail is in one format and your recipient's is in another.
To avoid this, you should format your outgoing e-mail so that it is readable by all e-mail programs. Set your line lengths to 60 characters (including spaces) per line so that the lines don't automatically wrap.
The MADE Approach to writing emails
Writing email - what structure? from Business Writing Baden Eunson

The structuring or sequencing of information critically influences the effectiveness of these communications. In email, direct structuring, getting your message up front, is usually the most suitable approach. Consider using the MADE formula for structuring emails:
Message
Action
Details (apply the SW2H principle: What, Where, When, Why, Who, How, How much?)
Evidence (optional enclosures or attachments).
The MADE approach is direct - it begins with the core of the message, creating a context and rationale for action and problem solving.
Setting up a business with multiple email aliases
Efficient email management is essential for any business. Choose your domain name carefully and consider where your site is hosted. Quality web hosting will allow you to create as many emails as your business needs with quality spam filters.
You can then setup what are called email aliases which are emails that actually look like "info@yourbusiness.com" but can be managed via your normal email ISP.
There are some benefits to this:-
Spammed out addresses can be removed
Manage or your accounts from one software (both Outlook Express and Thunderbird allow you to send and receive aliases)
My clients get email advice and changes free. Its part of my hosting packages designed to minimise time wasted on email management.
POP email accounts can also be set up. A POP email account is where your emails are stored on a server (e.g. yourbusiness.com) as opposed to an alias that simply forwards to your existing email eg. mike@bigpond.net.au. Ilike to have one POP3 email account where all mail goes to from various aliases. With one POP3 account you can check your email from your desktop or on your phone.
Managing emails from a mobile phone
As mentioned above using one POP3 account allows you to check any email from your mobile phone. You may be waiting on a contract or important information and need to check your email whilst away. One technique (if your phone allows it) is to only download the header and leave it on the server. This allows you to check your emails - only download the content of an email you are interested in - perhaps even reply via your phone and still have the original email arrive in your desktop inbox.
The header of an email only contains the subject plus info about who sent it etc.
Managing multiple emails from multiple devices using Gmail
Some people regard email as more important than their website. You may have multiple domain names and email addresses. These can all be managed in one place for all the devices you use. Gmail can be used and even check on your POP3 emails for you. This can create one central repository for all of your emails. This strategy suits someone who is going to use GMail as their main email system.

As per below once you set up an account in Gmail go to the Settings>Accounts and Import menu and add new accounts.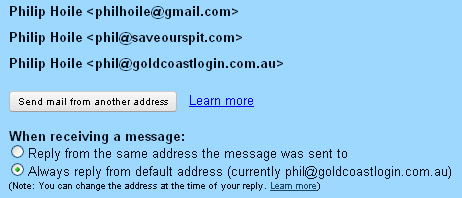 Using this scenario you could send emails from an iPad an iPhone a normal mobile phone and any computer in one organised place.

When an email is sent from Gmail from your selected account it is traceable in the header as to the chain of events that has occured.
Gmail is also very accomplished at reducing spam and has some very useful features for customisation and managing documents.

Note New Gmail setup requires a valid SMTP server for sending emails as aliases.
This can be a valid SMTP server eg like your home provider (e.g Telstra). You will need a username and password.
Setting up Outlook Express for your Gmail account
This article sets out 2 ways of using Gmail in Outlook Express.
This can be very useful if you wanted to still send an email as you@yourdoamin.com but used Gmail instead of Telstra or other carrier.
Hence you can have a professional email address that forwards to a GMail account and is still accessable from your computer.
Forwarded Emails
In most of the scenarios above we are using forwarded emails with one POP3 server. GMail also allows you to forward emails hence you could use one GMail account to perform many important tasks without visitors to your website being aware.
You could have 5 websites all forwarding emails to GMail with those emails being forwarded to your private ISP email.

Hence you can check all emails and reply as the business that is concerned.
There are now servers that discourage email forwarding as per this article about Why Forwarding your Email is a BAD idea
Preventing Spam from website email address
Understanding how spammers work may help in preventing spam. My personal email receives about 5 spams a day which is not bad considering the number of sites my email is on. Avoid having your email anywhere where is can be read as a text form from the Internet. There are simple ways to avoid the automatic spam crawlers. Avoid handing over you email details to sites or people you do not trust - always have a disposable email address (eg. a gmail address) for suspect forms or people. Many organisations collect emails many with varying security - if there computers are compromised you may have your details taken.
Use a reliable virus buster.

Avoid form emails on your site
This is my personal opinion - if you want someone to communicate with you making them fill in a form on your site rather than being able to email you directly is a poor choice.
Complicated number reading capture style forms are a deterent for people sending an email.
Sending graphical and html emails
When sending emails that contain graphics or are html emails ensure that the images contain the full path from the server.
For example www.yourbusiness.com/images/Logo.jpg instead of what is called a relative path or embedded in the email.
This allows the email client to give an option to the recipient to whether they wish to download the image content of your email and save them unneccerily waiting for images to download on an email they are not interested in.
Seperating your email server and your webserver
For some businesses their website runs a poor second to the value of having reliable email. Quite often I would recommend to my clients that they use thier ISP as a main email - however this can have issues as well.

If using a hosting account your email can be seperate from that account and can be setup to be on a different server than your website host. In doing this you do not have to worry about the integrity of your host in managing your emails.

In some cases I recommend my clients to setup either a self managed server or a business email account with a reliable mob e.g. Netregistry have a business email package for only $110 per year - with all the backup and reliablity you need with phone help if need be.
Future Email topics to be covered here
Is email effective in marketing?
What do anti spam laws mean to my email?
Managing email from the desktop
Writing effective Business emails
About the author
Philip Hoile has lectured at Griffith University in e-business, advanced e-business, e-commerce and User Interface Design. A web developer since 1996 specialising in programming website Content Management Systems.
My interest in web marketing stems from a desire to improve client outcomes.